Facilities
Instrument Shop - Staff

Barry Bergeron
Machining is the only thing Barry has done professionally. Barry has been doing this since April, 1977. From 1977 to the present, Barry watched the production time gap between idea and product close. In 2016, Barry became the shop supervisor. Barry prefers to automate the machining process when ever practically possible. He feels strongly that the method often used to make better cars and toasters can be applied directly to prototyping scientific instruments, improving precision and overall quality. Barry believes that smaller, more integrated, more stable devices that incorporate a higher degree of functionality, come from taking the fabrication task to the level of art.

John Snellings
John Snellings came to the Physics & Astronomy department in March 2015. John has a long history with the University Of Oklahoma beginning in 1985 to include working in the Facilities Management Engineering Department. John is a licensed unlimited mechanical contractor which makes him valuable for the Nielsen Hall facility itself. In addition, John is our new Nielsen Hall Building and Safety Coordinator. John is a lifelong craftsman which made him a good choice for the Instrument Shop's new manual mill and lathe operator. Any fabrication matters can be brought to John, he will be able to address and evaluate your project.
Research Areas
Instrument Shop
Professional Workmanship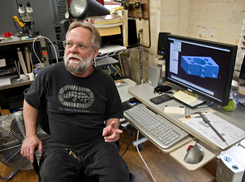 Barry machining some new parts.