Lloyd Bumm
Associate Professor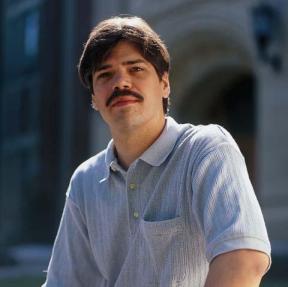 Awards
Nancy Mergler Undergraduate Research Mentor Award
Patent and Innovation
Patent and Innovation
NSF Career Award
Education
B.S. 1982 Clarkson University
Ph.D. 1991 Northwestern University
Contact
.(JavaScript must be enabled to view this email address)
Ph: (405) 325-6053
Office: Lin Hall 231
Research Description
The Surface and Molecular Interface Group specializes in surface physics at the nanometer-scale in condensed phase systems. In practical terms: Can I build an electronic device out of a single molecule? Can I manipulate low-energy electrons on surfaces at the nanometer scale? Can I use the local nanometer-scale structure to direct surface chemistry? Insight into critical technological problems, such as molecular-scale electronics, molecular light-emitting diodes, light harvesting systems, and the environmental stability of surfaces relies on understanding fundamental chemical and physical processes at the nanometer scale. When a single molecule is placed between two electrodes, what is its electrical conductivity? How does light modify the molecule's electrical properties? How is chemical reactivity of molecules on surface influenced by the local environment, defects, etc.
Our current focus: STM images are more than pretty pictures, they contain a wealth of information that is generally overlooked. We are developing advanced real space image analysis techniques to extract this information. To gain a deeper understanding of our experiments, we supplement our measurements with simulations stating from molecular dynamics yielding simulated STM images and infrared spectra.
We use self-assembled monolayers (SAMs) as a matrix platform in which other molecules can be tethered. SAMs have the advantage that they can be easily prepared under bench-top conditions and their molecular components can be readily imaged by STM. In addition to STM, my group is also developing capability in in grazing angle-infrared spectroscopy for SAM characterization.
Our overarching goal is to understand the electronic and the optoelectronic characteristics of individual molecules and functional nanometer-scale assemblies. The experimental approach is to combine the molecular-scale resolution of scanning probe techniques, such as scanning tunneling microscopy (STM) and atomic force microscopy (AFM), with optical spectroscopy. Our group is also interested in developing novel scanning probe techniques.
Selected Publications
"Interaction of the (2√3 × 3)rect. Adsorption-Site Basis and Alkyl-Chain Close Packing in Alkanethiol Self-Assembled Monolayers on Au(111): A Molecular Dynamics Study of Alkyl-Chain Conformation," S. Bhattacharya, M.P. Yothers, L. Huang, L.A. Bumm, ACS Omega, 5(23), 13802-13812, (2020) DOI: 10.1021/acsomega.0c01111
"A Comprehensive Study of the Bridge Site and Substrate Relaxation Asymmetry for Methanethiol Adsorption on Au(111) at Low Coverage," S. Bhattacharya, G. Speyer, D.K. Ferry, L.A. Bumm, ACS Omega, 5(33), 20874-20881, (2020) DOI: 10.1021/acsomega.0c02328
"Imaging the native inversion layer under buried oxide in silicon-on-insulator RF device technology via Scanning Surface Photovoltage Microscopy," D.H. Dahanayaka, P.V. Kaszuba, L. Moszkowicz, R.H. Wells, F.J. Alwine, R.A. Phelps, J.A. Slinkman, A.A. Wong, L.A. Bumm,, Journal of Vacuum Science and Technology B, 37(5), 052906, (2019) DOI: 10.1116/1.5111139
"The role of defects and surface states in the carrier transport and non-linearity of the diode characteristics in PbS/ZnO quantum dot solar cells," Y. Cheng; M.C.D. Whitaker, R. Makkia, S. Cocklin, V.R. Whiteside, L.A. Bumm, E. Adcock-Smith, K.P. Roberts, P. Hari, I.R. Sellers, ACS Applied Materials & Interfaces, 9(15), 13269-13277, (2017) DOI: 10.1021/acsami.7b00141
"Real-space post-processing correction of thermal drift and piezoelectric actuator nonlinearities in scanning tunneling microscope images," M. P. Yothers, A. E. Browder and L. A. Bumm, Review of Scientific Instruments, 88(1), 013708, (2017) DOI: 10.1063/1.4974271
"Metal-Enhanced Fluorescence of Dye-Doped Silica Nano Particles," K.B. Gunawardana, N.S. Green, L.A. Bumm and R.L. Halterman, Journal of Fluorescence, 25(2), 311-317, (2015) DOI: 10.1007/s10895-015-1510-8
"Scorpion fluorescence and reaction to light," D.D. Gaffin, L.A. Bumm, M.S. Taylor, N.V. Popokina, S. Mann, Animal Behaviour, 83(2), 429-436, (2012) DOI: 10.1016/j.anbehav.2011.11.014
See more publications.
Research Group
People