Department News
Astrophysics and Cosmology
Research Highlight: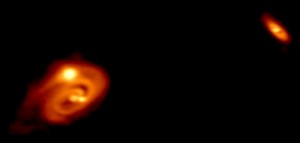 In a recent study led by graduate student Nickalas Reynolds, a team of scientists peered deep into the Perseus molecular cloud with the Atacama Large Millimeter/submillimeter Array (ALMA) to produce these images and study IRS3B and A. Reynolds and collaborators determine from their observations that the disk of IRS3B is gravitationally unstable at radii of 200–500 au, and its fragmentation may have recently produced the third protostar in IRS3B (visible as the outer bright spot in the circum-triple disk), which lies at 230 au.

Research Highlight: OU-Apache Point Observatory Partnership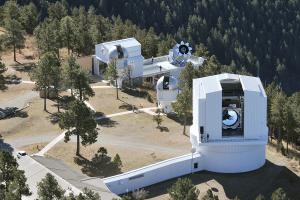 The University of Oklahoma has signed a 3-year lease agreement with the Astrophysical Research Consortium in Sunspot, NM (see the press release), giving its undergraduate students, graduate students, postdocs, and faculty access to research-grade 3.5m and 0.5m telescopes at the Apache Point Observatory. After being trained to use these facilities on-site in NM, OU astronomers will operate these telescopes from their offices in Norman. The agreement will help elevate OU's astrophysics research profile and provide invaluable educational training to OU students.
Research Highlight: Active Galactic Nuclei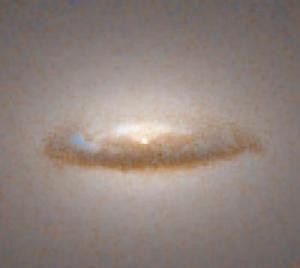 Active Galactic Nuclei (AGN) such as the one imaged here by the Hubble Space Telescope, are the most luminous, persistently emitting individual objects in the Universe. They can be seen at the largest distances, and provide a probe of the early Universe after structure formation. Used as a background light, absorption lines in their spectra trace nonluminous matter. They are powered by accretion onto black holes, and are key for understanding black hole demographics and the black hole mass function. Prof. Leighly works to understand how the primary physical parameters for black hole accretion, the black hole mass and accretion rate, manifest themselves in the broad band continuum and line emission from AGN.
Research Highlight: Munshi Galaxy Group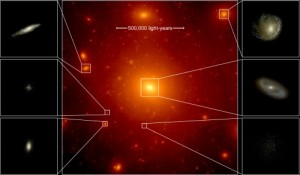 Prof. Munshi, in collaboration with scientists at Rutgers, Grinnell and UW ran two new computer simulations of Milky Way-mass galaxies and their surroundings. They are the highest resolution simulations ever published of Milky Way-type galaxies. They are cosmological simulations, meaning that they start soon after the Big Bang and model the evolution of galaxies over the entire age of the Universe (almost 14 billion years). The high resolution allows us to achieve something that no one else has: we are able to model some of the lowest-mass of the Milky Way's neighboring ("satellite") galaxies. In recent years, "ultra-faint" satellites of the Milky Way have been discovered as digital sky surveys come online that can probe to fainter depths than ever before. While our own Milky Way contains about 100 billion stars and is thousands of lightyears across, ultra-faint galaxies contain a million times fewer stars, with less than 100 thousand stars (even as low as a few hundred stars), and are substantially smaller, spanning tens of lightyears. Our simulations allow us to begin to model these ultra-faint satellites for the first time around a cosmological simulation of a Milky Way, meaning they provide some of the first predictions for what future surveys will discover. Research in the Munshi Galaxy Group includes utilizing these simulations, dubbed the "DC Justice League" and extremely high resolution simulations of isolated dwarf galaxies (the "MARVEL-ous Dwarfs") to study galaxy formation and constrain the nature of dark matter using galaxies.

These simulations are only achievable by using powerful supercomputers with highly optimized code. Press release here. For a visualization of a simulation, click here.
Research Highlight: Star Chemistry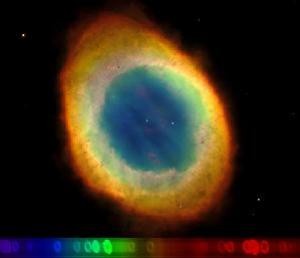 The Ring Nebula was formed when a Sun-like star nearing the end of its life ejected part of its atmosphere into the interstellar medium. The nebular gas itself is heated by the UV continuum from the remnant of the original star visible at the center of the Ring. Also shown is a slitless spectrum of the Ring, where an image of the nebula appears at wavelengths of bright nebular emission. Planetary nebulae are useful in Prof. Henry's research in determining properties of the interstellar medium as well as for studying the evolution of stars like the Sun. Credits: Image, Hubble Heritage Team (NASA); Spectrum: Julie Skinner (former OU Astronomy undergraduate), using the 2.1 meter telescope at KPNO.