Letter To Prospective Students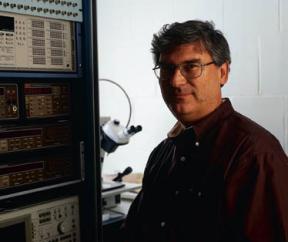 Dear Prospective Graduate Student:
The Homer L. Dodge Department of Physics and Astronomy at the University of Oklahoma offers a stimulating, friendly, supportive environment for graduate study. Our first-rate faculty, extensive laboratories and machine shop, outstanding research library, and wide-ranging computing capabilities provide everything a student needs to succeed in his or her pursuit of a master's or doctoral degree.
The University of Oklahoma is located in Norman, one of the most attractive, easy-going, and inexpensive places to live in this part of the United States. The physical environment of the Norman campus is enriched by gardens, fountains, benches, and sculptures, making it one of the most attractive and congenial of campuses. OU has much to offer graduate students in physics beyond our Department. The University of Oklahoma maintains an internationally acclaimed collection of early manuscripts in the history of science, exhibits at the Fred Jones Jr. Museum of Art and the Sam Noble Museum of Natural History, a world-renowned Western History collection, the National Weather Center, an extensive program of plays, recitals, and films, and lectures and seminars by internationally known leaders in the sciences, humanities, arts, and government.
The Department of Physics and Astronomy provides opportunities for students to pursue federally supported cutting-edge research in four major areas of contemporary physics:
astronomy and astrophysics;
atomic, molecular, optical, and chemical physics;
condensed-matter physics;
high-energy physics.
The many alumni of our graduate program have built successful careers as leaders in technology-related businesses, in industrial and governmental research facilities, in academic research institutions, and in science and public policy at the highest level of government. We will have completed several years of improvements in the physical environment for teaching and research-including the addition of two wings, one of which freed up offices for graduate students-and extensive renovation of the original building, including our in-house library. We continue to expand and improve our research and teaching laboratory facilities. In part, this renovation was made possible by a recent 6 million-dollar gift which supports three endowed chairs as well as research fellowships for graduate students. This year we received a 2 million dollar estate gift from a former student Carl T. Bush which established 5 endowed lectureships.
Our Department has long been known for excellence in research and teaching, including training graduate students. Among the many award winners on our current faculty are
7 recipients of an NSF career award;
2 State of Oklahoma Gold Medalists for excellence in teaching;
13 University of Oklahoma Presidential Professors;
1 Sloan Fellow;
2 Humboldt Fellows;
5 Fellows of the American Physical Society;
8 winners of the OU Regents Award for Superior Research and Creative Activity;
12 winners of the Regents Award for Superior Teaching; and
11 named professorships, three for teaching and eight for research.
We strive to create a supportive, collegial, friendly environment for all members of the Department-staff, postdoctoral research fellows, visitors, faculty, and students alike. In addition to annual social events such as picnics and holiday parties, our regular mid-afternoon tea-and-cookies break provides an informal daily opportunity for members to gather, share ideas, and chat with the many scientists from around the world that visit us throughout the year. These visitors contribute additional intellectual excitement to the Department, through our weekly colloquia, specialized seminars within the major research areas, and ongoing collaborations with faculty and students.
I hope you will find much on our web site to interest you and that you will want to join our community of scholars.
Phil Gutierrez Chair