Atomic, Molecular and Optical Physics
Atomic, molecular, and optical (AMO) physics is a rich and active area of fundamental research that has led to the development of powerful quantum devices in the areas of sensing, navigation, and time keeping.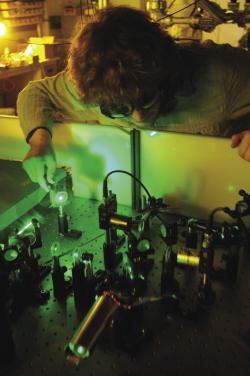 The breadth and relevance of AMO physics is highlighted by a large number of Nobel Prizes awarded to the field. Frontiers in AMO physics include manipulation of atomic systems at the single quantum level, generation of quantum mechanical light fields, developing real world applications of quantum entanglement, entanglement of many-body systems, extending the use of atomic systems for precision measurement beyond time and frequency standards, and engineering quantum matter. AMO physics is also an enabling science: lasers, spectroscopy, magnetometers, nuclear magnetic resonance, fiber optics, and atomic clocks are AMO technologies that permeate other fields. Breakthroughs in new fields in AMO can lead to new experiments in other fields, such as the search for dark matter and the measurement of ultra-weak forces and fields. AMO has many connections to industry, and large sectors of the US economy have developed as a result of AMO discoveries. Due to its broad applicability, AMO training leads to a wide range of high paying and intellectually rewarding jobs for students in academia, government, and industry.
The AMO group at OU studies the interactions between and manipulation of atoms and photons at low temperatures and energies. Current research areas in theory and experiment include the study of ultracold atoms and molecules, many-state quantum entanglement, developing schemes to use entanglement in next-generation quantum sensors and devices, quantum information science, precision spectroscopy, quantum optics, ultracold Bose and Fermi gases, matter wave interferometry with multiple entangled atoms, studying how entanglement, correlations, and coherence power new computing protocols and advanced metrological devices, and studying exotic bosonic and fermionic many-body phases with particular interest and effort toward realizing and understanding models relevant to condensed matter physics. These topics touch on many of the most important problems in physics today, such as quantum simulation and computing, quantum control, strongly correlated systems, and improved quantum sensors that take advantage of the unique capabilities of AMO systems.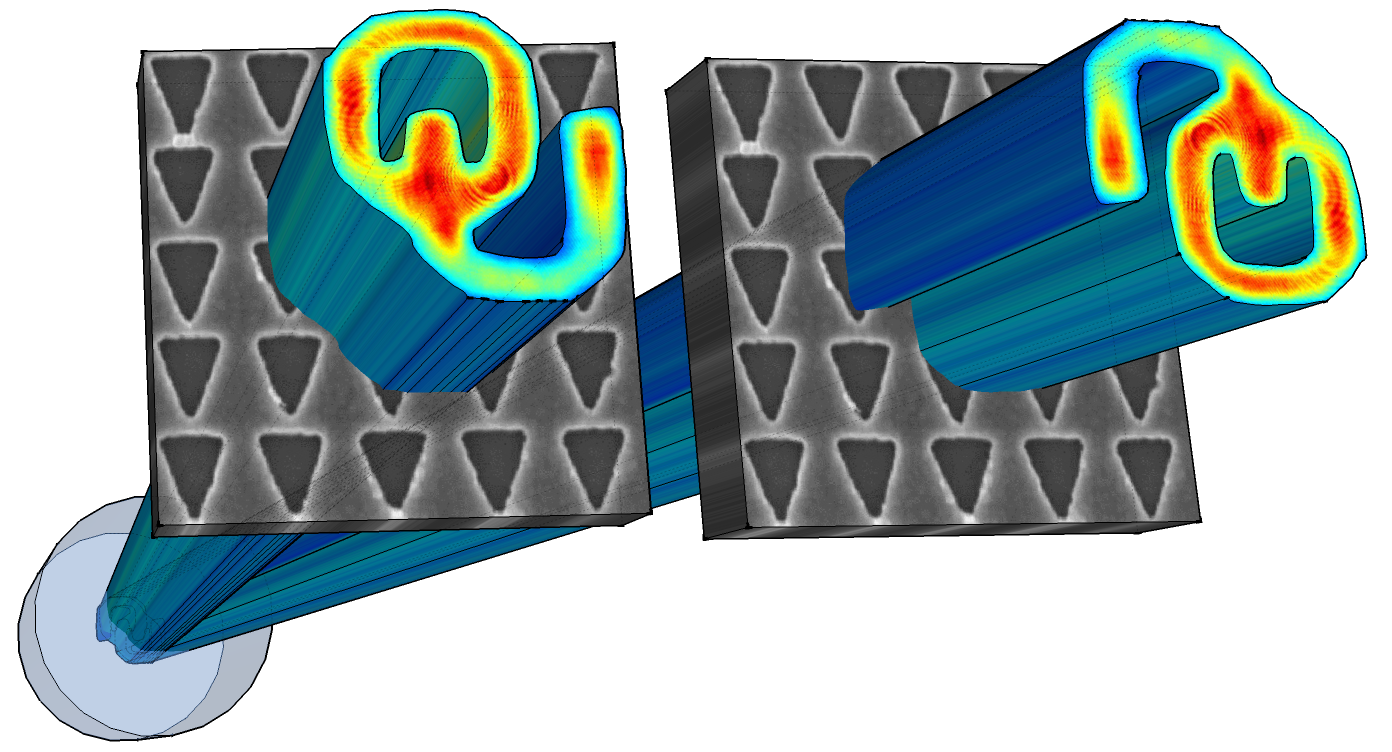 Since its inception, the AMO group at OU has been regularly funded by the National Science Foundation, the Department of Energy, the American Chemical Society, the Department of Defense, and various private institutions. In 2018, the AMO groups started moving to laboratories in newly-constructed Lin Hall: 18,000 sq. ft of state-of-the-art laboratory space and one of only a few buildings in the world to meet the NIST-A requirements on vibrations, temperature, humidity, and electromagnetic interference. The AMO group has joined with the condensed matter physics group to form a new research organization, the Center for Quantum Research and Technology (CQRT). The CQRT's mission is to make OU a world leader in quantum technology by excelling in basic research, pursuing applications enabled by its discoveries, and training the future workforce for this emerging field.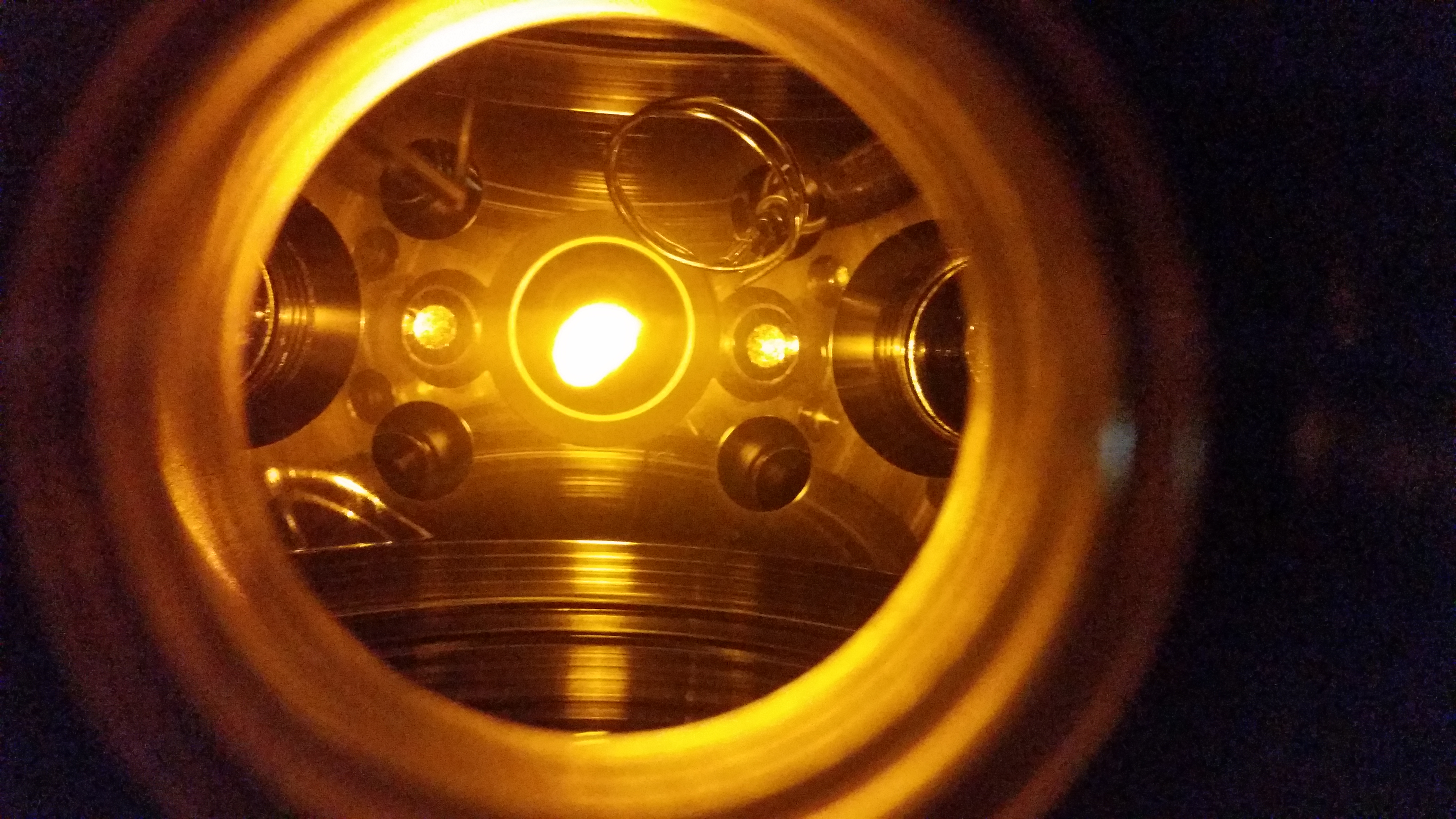 Students who choose AMO experimental research work on cutting edge techniques with state-of-the-art equipment featuring advanced laser systems, optics, ultra-high vacuum technologies, fast electronics and novel single particle detection methods. Students choosing to pursue theoretical AMO research have many options including formal mathematical physics, computational physics, and experimental modeling. Our computational facilities include an extensive network of powerful computer workstations, which are freely shared among members of the department. When larger computational resources are needed the OU supercomputer is widely used within the AMO group. The OU supercomputer facilities, ranked as high as the 14th most powerful in a US academic institution, have a large cadre of help staff to facilitate the use of the computer. The training at OU in formal AMO theory using modern computational methods is ideal for preparing students for successful careers.
Research Areas
Faculty
Emeritus Faculty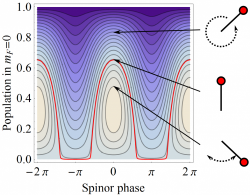 Research Highlight: Schwettmann Group
Our group does research in the field of experimental ultracold atomic gases. We focus on cold collisions in sodium spinor Bose-Einstein condensates. At temperatures close to absolute zero, attainable with the methods of laser cooling and trapping and evaporative cooling, coherent collisional spin dynamics become observable in the gas. The dynamics are due to spin-exchange collisions and can be controlled with external fields. They present an opportunity to create exotic, entangled spin states useful for atom interferometry and will allow us to do experiments on quantum optics with matter waves. Currently we are in the early stages of setting up a new lab. Please do not hesitate to contact Professor Arne Schwettmann for more information.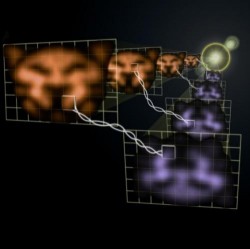 Research Highlight: Marino Group
Our research is in the field of experimental quantum optics, with particular emphasis on quantum information and quantum metrology. Quantum optics studies the quantum properties of light and their applications. Our research is based on the generation and control of entangled photons with atomic systems. The projects we are currently working on involve quantum engineering of our source to tailor the properties of the entangled photons and interfacing the entangled photons with devices, such as plasmonic sensors, to increase their sensitivity. Please do not hesitate to contact Professor Alberto Marino for more information.

Research Highlight: Watson Group
My group is engaged in the study of large many-body systems under quantum confinement, such as Bose-Einstein condensates and ultra-cold systems of Fermi gases. We are developing a method which minimizes numerical effort by using powerful group theoretic as well as graphical techniques. Our approach can handle strongly correlated systems of fermions and can describe their macroscopic collective motions. Fermion systems are important in many fields of physics provide the underpinnings for many technological applications. Our goal is to bridge the gap between a microscopic quantum description and the macroscopic properties of large N-particle correlated systems.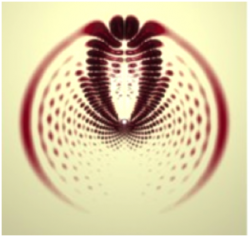 Research Highlight: Shaffer Group
Our research group studies atom based sensing exotic states of matter and various topics involving quantum engineering. All of our projects currently involve Rydberg atoms. Rydberg atoms are highly excited atoms that possess exaggerated properties that make them well suited for applications that require controllable long range interactions. We have projects investigating novel long range molecules formed by Rydberg atoms such as macrodimers and trilobite molecules, studying Rydberg atoms for quantum optics and using Rydberg atoms for traceable sensing of electric fields. Please do not hesitate to contact Professor James Shaffer for more information.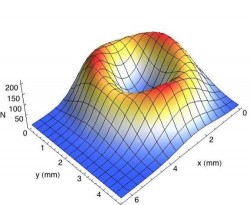 Research Highlight: Abraham Research Group
Our research group investigates ultracold atoms and molecules. Using lasers to cool rubidium atoms to less than 1 thousandth of a degree above absolute zero, we study their behavior. With lasers and precisely controlled magnetic fields we induce resonant collisions to form new molecules, which helps us better understand molecular interactions. We use diffractive optics to create unique atom trapping geometries, including toroidal and ring-shaped traps. The ultracold atoms are used as a medium for non-linear optics experiments with these novel laser fields that may impact optical computing. Contact Dr. Eric Abraham for more information.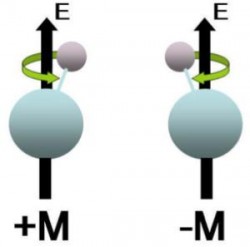 Research Highlight: Testing the Standard Model in a Single Molecule
Symmetry dictates that states of an atom or molecule with total angular momentum M?0 along the axis of an electric field will exhibit a two-fold degeneracy between states differing only in the sign of M. A time-reversal asymmetry could break this degeneracy. Almost every alternative to the Standard Model, (most notably Super Symmetric Theories), indicate that time-reversal asymmetry should lead to an observable energy difference between these otherwise degenerate ±M states. Prof. John Moore-Furneaux is searching for the signal of this time reversal asymmetry: a non-zero electric dipole moment of the electron. High precision measurements of PbF may reveal what billion dollar accelerators have not: evidence of physics beyond the Standard Model.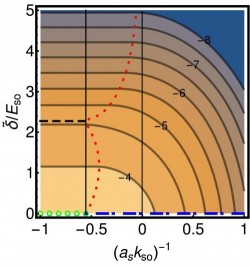 Research Highlight: Blume Group
Our group is looking at a wide range of static and dynamic few-body phenomena. We are interested, e.g., in understanding what it takes to bind two, three, or four particles together. How does the single-particle dispersion come into this? And what are the differences in terms of critical binding between short- and long-range interactions? Knowing how two, three, or four particles behave, can we predict what is happening at the many-body level? Please do not hesitate to contact Professor Doerte Blume for more information.